Bladder Obstruction (BO; BOO; Bladder Outlet Obstruction)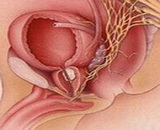 Bladder neck obstruction is a condition where the bladder neck does not open enough during voiding. Bladder Outlet Obstruction (or BOO) is a urological condition where the urine flow from the urinary bladder through theurethra is impeded.
Treatment of bladder outlet obstruction depends on the cause of the problem. For most cases, a tube called a catheter is inserted through the urethra into the bladder. The catheter will relieve the blockage. Sometimes a suprapubic catheter (a tube placed through the belly area into the bladder) is needed to drain the bladder.