Tractional Retinal Detachment (TRD)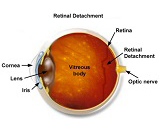 Anytime subretinal fluid accumulates in the space between the neurosensory retina and the underlying retinal pigment epithelium (RPE), a retinal detachment occurs. Depending on the mechanism of subretinal fluid accumulation, retinal detachments traditionally have been classified into rhegmatogenous, tractional, and exudative.
A tractional retinal detachment (TRD) is the second most common type of retinal detachment after a rhegmatogenous retinal detachment (RRD).